From Home Fitness Dealership Manager
"I have to tell you that Sprint 8 has been GREAT for me. I bought a Vision Fitness recumbent with Sprint 8 and have been using it religiously since then. Sprint 8 is now a part of my lifestyle. I do Sprints 8 every other day without fail, and it feels great. I can see the results I am leaner than I've been in a while, have more energy, and just feel better in general. THANK YOU so much!!!!- Yvonne Blake*, Arizona Health, L.L.C.**(Results may vary)


Paul Crimmins, BGI Fitness, Indianapolis, demonstrating Sprint 8
- signature cardio program in Phil Campbell's book now featured
on award-winning Matrix Retail and Vision Fitness home cardio units


From retired chiropractor
"Simple thanks are just not enough to explain how I feel about my signed copy of your book. As a retired Chiropractor, due partly to loss of physical function and inability to perform my job without pain, the topics hit home with a blistering realism.

I have not been able to even walk enough to get to an even minor aerobic workout for years. I have awakened during the night before, worried and knowing that physically my health was deteriorating. Weight gain issues and uncontrolled hypertension were waging war on my system internally and externally. I have gotten out of bed, put on my workout clothes, made a proclamation that I was going to walk regardless of the pain.
As devout as my convictions were, I physically failed miserably and could not even walk 50 yards without sever back and leg pain. Surgical options, due to the severity of my diagnosis and the failure rate of the procedure that I need, were not realistic for me unless I became completely disabled and unable to ambulate.
I started the program, and in addition to altering my diet, I have virtually eliminating refined sugar, and I have tiptoed into your program over the last 3 weeks. I am truly amazed at the results in such a short period of time and I have just barely scratched the surface.
While my level of improvement doesn't even begin to approximate that of a modestly fit individual, it is miraculous when compared to my beginnings. I have lost about 15 lbs. My joint pain has virtually been eliminated except for some occasional hip and leg pain that occurs when I stand in one spot for a protracted period of time (generally a sign of spinal stenosis). My energy level has skyrocketed; my resting pulse rate has slowed 20%. I just feel better physically and mentally. - Wayne Key **(Results may vary)
Nice addition to his first book
Nice addition to the info in Cambell's first book, Ready Set Go! but you really need to read the first book, first. This one offers some pointers on how to do the sprint 8 spicifically on cardio equipment, but offers nothing on the other parts of the workout. - Oceanattitude


Priceless Information
After doing this program for a couple of months my health improved dramatically, I am looking fabulous in comparison to before, the extra stubborn fat disappeared, I'm toned all around, I have way more energy, I could work non stop without sitting from early morning till bed time, I have no bone pain anymore and I'm much happier. This is beyond amazing. I did not think that a form of exercise could do all these for you. Thank you Phil! - Diane Horn


5 out of 5 stars AWESOME
Phil Campbell's newest book is in line with his other books. This version of the book breaks down the Sprint 8 and helps all readers to understand what to expect from workouts and post training information. I love the fact that he breaks down the intensity for heart rate and he even discuss the supplements needed to have that extra release of the Human Growth Hormone. Great Work Phil !!! - Chris Morris

Another winner from Phil Campbell!
This book and Sprint 8 helped me go from ZERO medals in 2015 to now 13 medals and counting in Masters Track and Field in 2016 alone. The exercises are never easy if you do them right but you definitely gets you results if you stick with it. Its a quick read and highly recommended for the weekend warrior to the professional athlete. - Dr. Derick Phan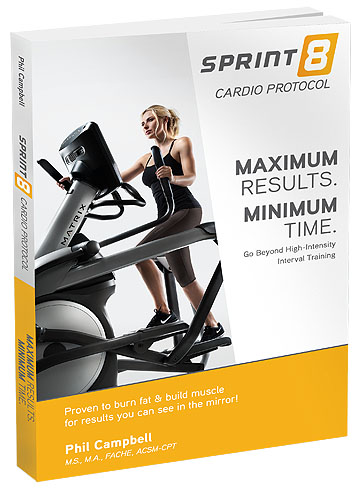 Sprint 8 Cardio Protocol shows readers sprint-intensity cardio targeting exercise-induced growth hormone to create a NEW YOU with more energy.
A new you with improved cardiovascular fitness. A new you with less body fat, more muscle and stronger bones. A new you with enhanced optimism. And a New You with better health.

.

The science-based Sprint 8® Cardio Protocol is proven
to significantly boost energy, reduce body fat, promote lean
muscle and improve cholesterol in just eight weeks.
"Thank you for helping me achieve a level of fitness that I was beginning to think was unattainable. I am elated that I am able to participate with my four growing kids (6yrs, 8yrs, 11yrs, and 12yrs) in their athletic adventures; Tri-athlons, gymnastics, running events, etc…You have no idea what level of hope and encouragement that you have given me, and give me daily, with your book, and your reports and articles contained on your web site. I tap into your material often." - Jeff Endrulat*
I feel better at 50 than I did at 40. My progress with the Ready, Set, GO plan has been beyond my wildest imagination! Not only have I lost weight, I have been able to enter several masters competitions that you recommend. I've completed six 5K runs, five triathlons. I finished 1st in my age group in the 1 mile run and 2nd in the 800 in a Masters Track & Field event.
Your book has been my guide to better health and it has help me to become an athlete again. The Sprint 8 Workout and interval training workouts in the book have not only helped in running, but in the other areas as well.
I do the Sprint 8 Workout with swimming and biking and it has been the biggest factor improving my triathlon times. My PR (Personal Record) for the sprint is 1:09 at Wet Dog Triathlon. My next goal is to compete with my son John, age 16, in the Gulf Coast Half Ironman in May.
Thank you for putting all the information in one book. Most of all, thank you for helping me get my health back. I recommend this book to everyone. Sincerely, Harvey Fischer*, triathlete **(Results may vary)"I want to take the time to tell you how much I enjoyed the book. You were able to take complicated subject matter and reduce it into layman's terms. I am 38 years old and have been exercising for two years on a regular basis. I couldn't agree with you more. I used to worry that maybe my running was impeding muscle growth. However, reading your book has convinced me about the benefits of anaerobic exercise---Thanks." - Joseph Donofrio, New Jersey **(Results may vary)

"I have to tell you that Sprint 8 has been GREAT for me. Sprint 8 is now a part of my lifestyle. I do Sprints 8 every other day without fail, and it feels great. I can see the results I am leaner than I've been in a while, have more energy, and just feel better in general. THANK YOU so much!!!! - Yvonne Blake*, Arizona Health, L.L.C.**(Results may vary)
"After not quite 3 months on your program, I've now burned about 19 pounds of fat, added about 4 pounds of muscle, and cut body fat by almost 6 percent. My cholesterol dropped 70 points!"- Terry Bazyluk*, Writer/Lawyer, Maryland **(Results may vary)
"I now understand why even the best diet and regular weight lifting weren't working. With a few tweaks to my workout program (and no more time involvement), I have twice the energy and feel more toned than I've felt in a long time." -Nan Allison*, MS, RD, Author of Full and Fulfilled **(Results may vary)
Sprint 8 on Matrix Fitness
here
Phil Campbell's Sprint 8 Research Study here
Phil Campbell is not trying to sell you anything except a longer, healthier life.
A terrific concept, easy read, and a welcomed addition to a health and fitness library filled with more style than substance. This is the real deal. - Keith Murphy*, NBC Sports Director, Des Moines **(Results may vary)

"Your knowledge of physiology, biomechanics, and training technique is impressive. I am most impressed with your application of these principles in what is a truly remarkable, creative, and innovative way."
- Dr. John E Midtling, Professor and Chairman - Dept of Family Medicine, University of Tennessee
Different ways to do Sprint 8 here






**Testimonials are individual experiences reflecting personal experiences of those who have used our information and programs.Results may vary. More info on disclaimer here
"My Fit Campers love Phil and the Sprint 8. His book is the bible of Fit Camp. His program can take you to the next stage of fitness regardless of your current fitness level." - Greta Blackburn*, Editor, Ms. Fitness Magazine and Founder of Greta Blackburn's FITCAMPS
**(Results may vary)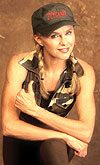 Experience motivational presentations and group training sessions by Phil Campbell during Greta Blackburn's Fit Camps.
More info here

See our Privacy & Secure Shopping Policy here